Everything About Tring Celebrity Shoutout App
Tring, headquartered in Mumbai, was founded in 2020 by Akshay Saini, Rahul Saini, and Pranav Chabhadia. One commendable feature regarding the Tring celebrity shoutout app is the large line-up of local, regional, and international celebrities from a wide range of genres on the app.
The app provides digital services for fans to connect with their favorite celebrities, via video shoutouts, live video calls, and social media direct messages, among other things.
How Does Tring Work?
Tring celebrity shoutout app is a user-friendly app and anyone of any age can use it without much difficulty.
To book a Tring request, just follow the steps given below:
Go to the Tring website, www.tring.co.in, or open the app and enter your full name, email id, password and create an account.
Enter your DOB, gender, mobile number and verify it with the OTP.
Choose your favorite celebrity. Then choose the occasion for the video message and enter all the details that are asked.
Enter the sender's name (under "From") and the recipient's name (under "To"). Enter all details including the message you want to be conveyed by the celebrity.
Include delivery information such as an email address and phone number.
Apply the Tring Coupon Code if any and finish the payment.
It takes a maximum of 7 working days to process a request. Some celebrities provide you 24-hour delivery, for last minute bookings. Process time is subject to availability of the celebrity.
For a standard video message of 30-45 seconds, the user message should be no longer than 750 characters.
The Business Model Of Tring
Tring celebrity shoutout app currently generates business by offering three different types of services in the celebrity engagement niche. They are:
Personalized Video Messages
Personalized 30-second video messages from celebrities (as per the request of the user) is created and delivered. This video can be reserved for yourself or can be gifted to someone. The best part is that the message can be customized to your liking.
Birthday wishes from celebrities, anniversary wishes from celebrities, best wishes from celebrities, apology wishes from celebrities, and so on are some of the popular themes that are mostly commonly received requests.
Video Call
A 5-minute live video call can be availed with celebrities (that is monitored). On the call, the user can invite up to four friends. This way, you can directly receive wishes from a celebrity of your choice.
DM On Social Media
Celebrities send a single text message to the user on social media (Instagram) from their verified account. These celebrity messages are treasured possessions for any ordinary fan.
Subscription Model
Apart from these revenue streams, Tring, like other celebrity engagement platforms, operates on a commission and subscription model. The subscription model is called Tring Prime, which offers special services and offers to its members.
Furthermore, the business model incorporates the Tring currency or T-Cash. T-Cash cannot be redeemed for monetary value.
It is only redeemable on the Tring website where 1 T-Cash equals Rs.1
Tring For Business
Tring recently launched "Tring for Business," that's an innovative one-of-a-kind automation platform. This enables national, regional, and local businesses or brands to use the 10000 celebrities available on Tring.
You can use the celebrities on Tring to drive testimonials, promotions, and new store openings, customer and dealer gifts, and so on. Businesses are utilizing these cost-effective celebrity services to increase brand credibility and stay top-of-mind, thanks to highly standardized celebrity pricing.

Who Uses Tring
The team claims to have completed nearly 300 confirmed video requests, 50 of which were from NRIs – that proves that Tring has an international audience. Tring's technology platform is seeing increased demand across metros and mini-metros. There's also visible momentum from tier 2 and tier 3 cities.
Users are overjoyed and thrilled regarding the prospect of an interaction with their favorite celebrity via video call or a video message, even though the celebrity might be residing thousands of miles away. Regional stars and local influencers are utilizing this opportunity to establish profitable connections with their growing audience.
How Much Can One Earn From Tring
Tring claims to have 5 million unique visitors every month. The platform creates what it calls "shoutout videos" from celebrities for users, which are then sold for a fee. It has a revenue share model by which the celebrity takes 70% of the fee that is collected and the app takes the rest.
Tring currently is available in two regional languages: Gujarati and Marathi. In the future, it intends to offer services in 11 regional languages.
Celebrities are have the potential to earn between Rs. 3-4 lakhs per month on this platform. The more popular ones make up upwards of Rs.10,00,000 per month. As these celebrities enhance their earnings, it brings higher profit and more business to Tring.
Tring has raised over $100,000 from angel investors to build a working product and has 450+ celebrities from various fields on board. According to Akshay, the company plans to successfully raise a second round of funding of $500,000, of which 40% is already secured.
Tring statistics
According to industry experts, the present market size of the celebrity-fan engagement (B2C) segment is between $10 and $20 billion. With another $15 billion from SMB (business-to-business) sales, the total market size would be around $25-30 billion.
As these platforms continue to experiment with different content formats, celebrities, stars and other famous personalities have the prospect of making a quick when the going is good. It will take some time before the results of experimenting with various business models prove that there can be no clear winner.
Top celebrities of Tring
Tring celebrity shoutout app offers a wide variety of celebrities from different sectors, such as movies, sports, TV stars, Instagram influencers, tiktokers, YouTubers and public figures.
Some of the popular celebs on tring are, Salman Khan, M S Dhoni, Randeep Hooda, Vidyut Jammwal, Tulsi Kumar, Kushal Tondon, Kiku Sharda, Saina Nehwal, Salim Merchant, and many other prominent celebrities.
Conclusion: Tring Celebrity Shoutout App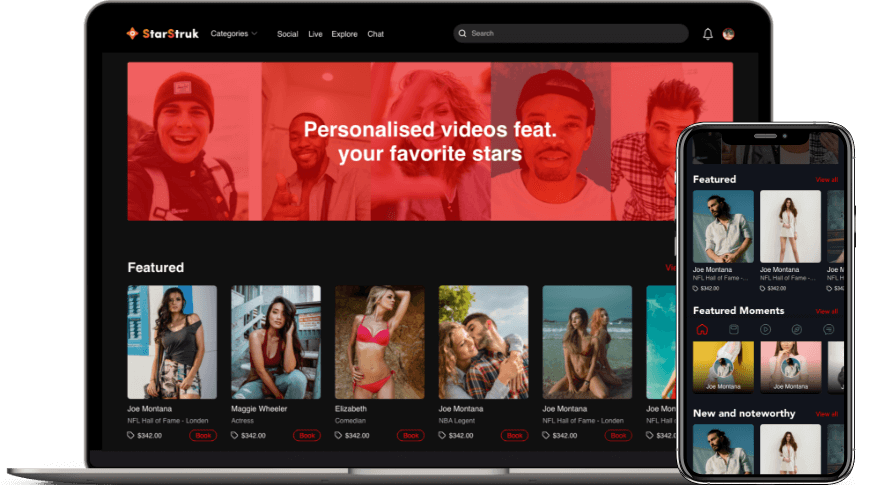 Tring celebrity shoutout app sure sounds like an exciting and profitable venture, doesn't it? With its rapid growth and escalation seen in the market, one can make out how lucrative indulging or investing in this type of business would be.
If you are planning to try your luck in business with a celebrity engagement platform, you should definitely try StarStruk. It is your one-stop solution for getting a Tring clone app made. StartStruk makes it simple to change and add the features you want to include and exclude from your own Tring clone app.
StarStruk, our celebrity shoutout software, has an easy-to-use online web portal as well as a Progressive Web App (PWA) for customers and creators.  StarStruk's objective is to make it easy for entrepreneurs and businesses to launch their MVPs at a lower cost and in less time. So give leverage to your long-overdue business idea a real shape with our celebrity engagement and shoutout clone app software "StarStruk"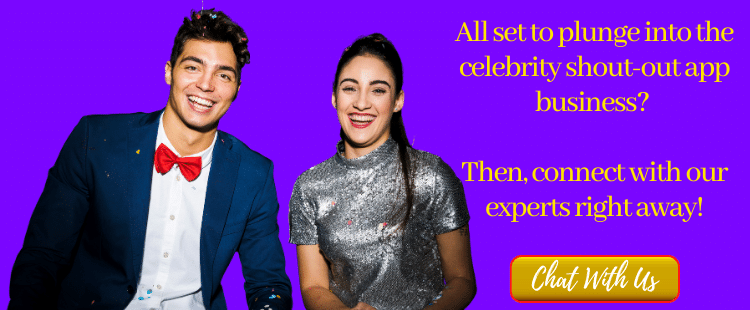 With an Engineering degree and a Diploma in Management under my belt, I worked for 16+ years in the automobile industry with various manufacturers in various capacities. But my passion for writing was overwhelming, hence I turned that into a career. I have been writing for more than 10+ years on various domains including the IT industry. I am sure you will find the 200+ published blogs of mine in here informative, exhaustive and interesting.