Instructions to create a Blockchain wallet to store Bitcoin,Ethereum,….in 2020
When you step into the cryptocurrency market. As you probably already know, in addition to cold wallets like ledger Nano S, Trezor, Blockchain wallet is one of the safest and easiest to use wallets to date.
In this article, GocTienAo will introduce in detail everything about Blockchain wallet and also guide you to register and use Blockchain wallet in the easiest way.
What is a Blockchain Wallet?
Like Coinbase wallet, Blockchain wallet is a cryptocurrency wallet platform developed by software development company based in Luxembourg. This is a wallet designed to be accessible from the web or mobile devices, to give anyone a safe place to store their coins through a clean, intuitive interface. The purpose of a Blockchain wallet is only a place to store cryptocurrencies, not a place to buy, sell and trade. Guys, please note this to help me!
Currently Blockchain wallet is supporting 5 cryptocurrencies such as: Bitcoin, Ether, Bitcoin Cash, Stellar, USD PAX.
Does Blockchain have an app on mobile?
Blockchain wallet now has an app on mobile for you to use anytime, anywhere without having to pay for a laptop
Advantages of Blockchain Wallet
A built-in "Security Center" guides you through the steps you can take to protect your accounts, backup funds, and prevent unauthorized access.
Friendly relations with trusted exchanges make it faster and easier to buy and sell cryptocurrencies directly from your personal Blockchain wallet.
Blockchain Wallet is now supported on both: Android, IOS and Web.
Disadvantages of Blockchain Wallet
Using on the Web, the download is a bit slow, for example, when you log in to the web, your computer will be frozen for 2-3 seconds before it is fully displayed.
Currently, Blockchain wallet is supporting quite a few coins, so it cannot meet all user needs.
Are Blockchain Wallets Safe?
Personally, I think this is a pretty safe wallet, but nothing is absolutely safe, because this is a hot wallet, this wallet runs on the web and also has a mobile version. , so the dangers are still unavoidable. To make your wallet more secure, you must do the following:
Enable 2FA for wallet registration email.
Enable 2FA for account login wallet.
Make sure your computer or phone is not infected with a virus.
Avoid visiting unsafe websites.
Do not click on strange, unknown links related to Blockchain wallets
Instructions to register for a Blockchain account
To start registering a Bitcoin wallet on the Blockchain wallet platform, log in to the homepage https://blockchain.com
Step 1: Sign up for an account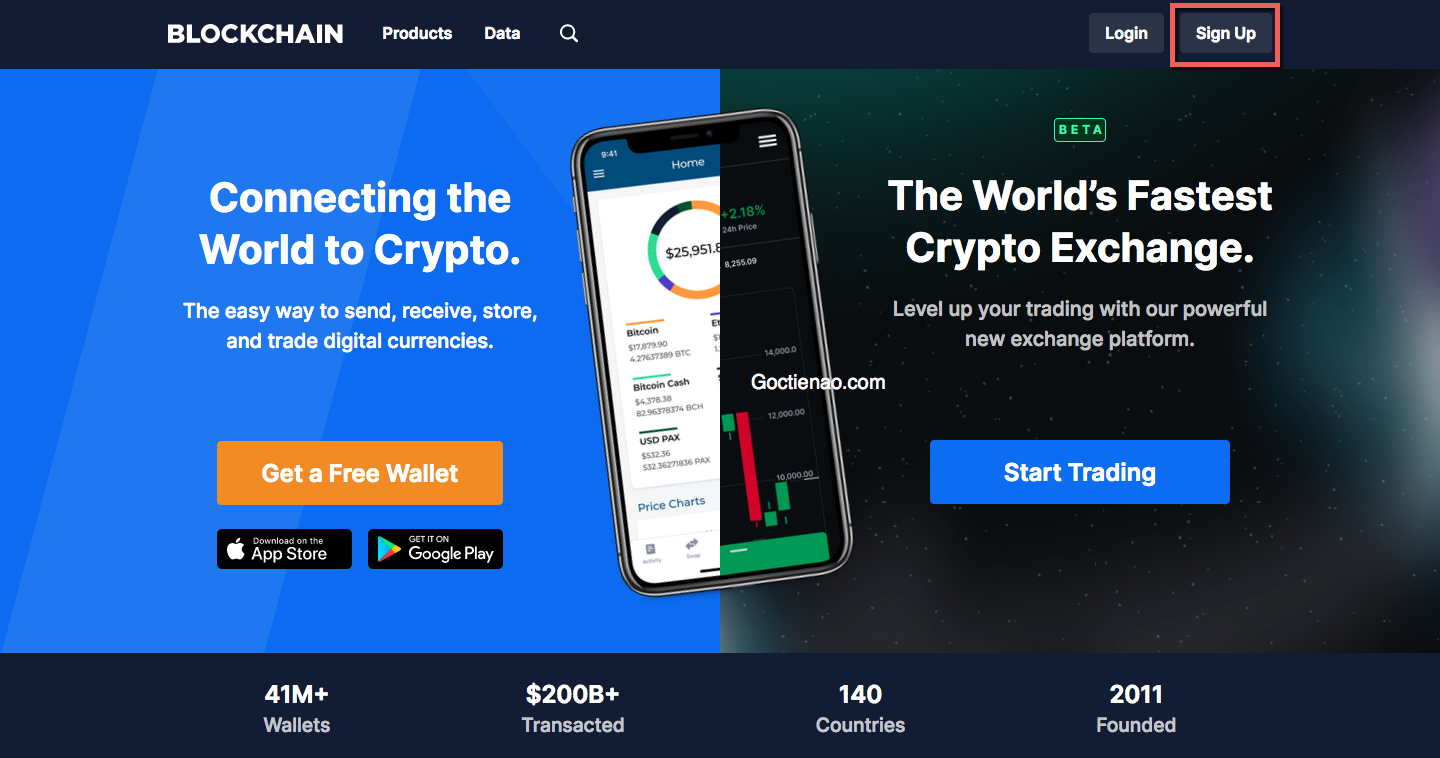 Brothers fill in Email registration, password and tick the box: I have read and agreed…. Then press Create My Wallet
Step 2: Go to your account activation email
You go to your registered Mail account, click on the Mail that Blockchain sends us, then click on the word: YES, THIS IS MY EMAIL.
So the account has been activated successfully.
Step 3: Verify Account Level 1
Brothers access the item Profiles. Then select item SILVER LEVEL and press tiếp tục.
Country: Vietnam
First name: Name
Last name: Surname
Day of Birth: Date of birth
Street line: Address
City: City
Postcodes: Postal code (If you are in any country, google search for the postal code of that province)
Done click tiếp tục.
Step 4: Verify ID/Passport
Brothers choose UNLOCK GOLD ok and click tiếp tục.
Previously, when the ID card verification was completed, Stellar would be Airdropped. The Airdrop is probably over now!
Here, you choose Vietnam. There are 3 types of authentication:
Passport
ID card
Driver license
Which one do you use, choose that one to authenticate! Then press Start. Next, take a selfie as required!
Photo 1: face photo, Photo 2: The front of the ID card, Photo 3: The back of the ID card, Photo 4: Selfie with ID card
After completing the steps to take pictures, you just need to wait and it's ok.
How to enable 2FA security on Blockchain Wallet
To secure your account, click on Security Center according to you, you should use Google Authenticator (2FA), and the SMS is unstable, sometimes you receive SMS, sometimes you should not choose the SMS.
Make sure to take one more step, you should activate 12 random words in the Backup Phrase. This is a section for the worst case scenario when you lose your email and your phone can't log into the system. Here you have to save 12 words carefully and exactly from number 1 to number 12. And please store it carefully.
How to create a wallet, deposit/withdraw Bitcoin on Blockchain
Currently, the Blockchain wallet system is supporting 5 coins such as: PAX, Bitcoin, Ethereum, Bitcoin Cash and Stellar. I will take Bitcoin as a sample, other coins you guys do the same.
1/ How to create a wallet and top up Bitcoin
How to create a Bitcoin wallet on Blockchain is very simple. Guys, follow me, well, if you don't have Bitcoin, you can go to Bitmoon to buy some.
Go to https://blockchain.info/wallet/#/home at the top you will see two buttons Send and Request, you press the button Request ok then you choose Bitcoin your wallet will appear below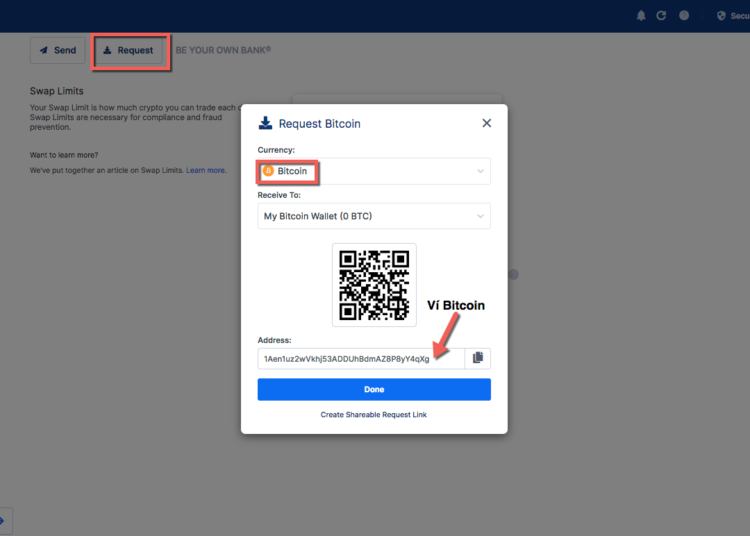 As for the part of loading Bitcoin into the wallet, you just need to copy your Bitcoin wallet like the picture above, then paste it where you withdraw the coin to another exchange or a certain wallet address you want.
2/ How to withdraw Bitcoin from Blockchain wallet
When you may have successfully loaded Bitcoin, there is already money in your wallet account at the main interface, just select the button Send Bitcoin transfer interface will appear as shown below.
Here you enter the recipient's address, the amount in USD or Bitcoin the system will automatically convert. Below the system will tell you the transfer fee with the amount you want to transfer.
The ways to create wallets of other coins are similar to the Bitcoin wallet I just instructed, so you guys can follow along. If you have any questions or difficulties, just leave a comment, I'm always ready to help.
Video tutorial to create Blockchain wallet
Please watch the video to make it easier to manipulate!
https://www.youtube.com/watch?v=wsF_2X3Th9w
Epilogue
So GocTienAo introduced and guided you how to use Bitcoin wallet on Blockchain wallet system. Through this article, you can clearly understand how to create a Bitcoin/Bitcoin Cash/Ethereum/USD PAX/Stellar wallet on Blockchain. As well as how to receive and send coins from this wallet.
Here are a few things that you should keep in mind:
ID Wallet – Used to log in to Blockchain wallet, save it carefully.
Bitcoin/Ethereum/Bitcoin Cash wallet address – You must save it to use.
If you do not have the coins that Blockchain wallet supports, you can go to Bitmoon to buy/sell.
Thank you for following my article, wish you successful registration. See you in future posts.